PERFORMANCE
1000W BRUSHLESS MOTOR
1000W MAX OUTPUT
This high-performance 1000W brushless motor offers impressive power. Its innovative star gear design allows for increased torque, resulting in improved efficiency and energy conversion rates. With its high-speed capabilities, this motor is perfect for a variety of applications where both power and speed are essential.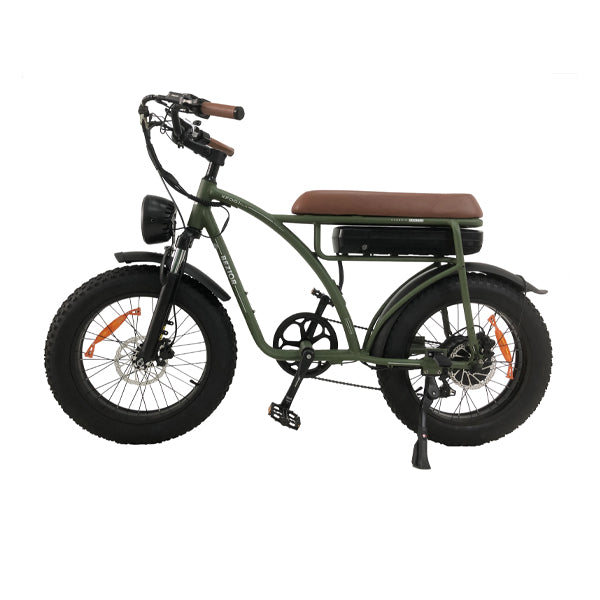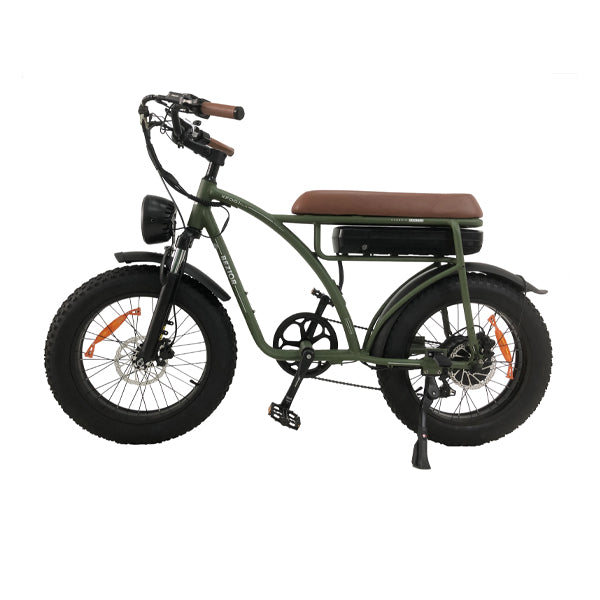 RETRO DESIGN
RETRO BIKE DESIGN
UNIQUE AND POWERFUL CARRYING CAPACITY
The unique retro-style bike frame designed by aluminum alloy, the lengthen saddle for dual soft seat and capable of carrying a 120kg load. Its retro frame design is durable and beautiful.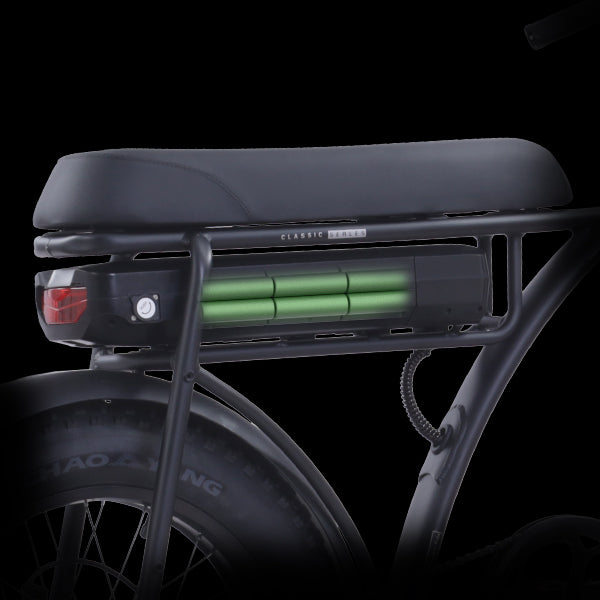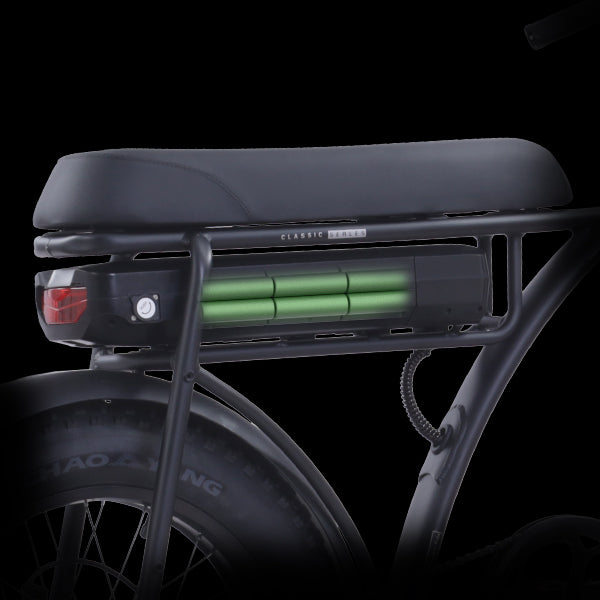 BATTERY CAPACITY
48V 17.5AH REMOVABLE BATTERY
HIGH CAPACITY, WATERPROOF BATTERY
The 48V 17.5AH battery capacity provides a relatively high capacity compared to standard e-bike batteries. It can reach 60km in pure electric mode and 100km in power assisted mode.The battery is designed to be removed easily, allows for convenient battery management and flexibility in extending the range of the electric vehicle by carrying extra batteries.
Capability
Shimano 7-Speed Gears
Shimano 7-speed shifting system allows the rider to shift between seven different gear ratios. It uses a derailleur to move the chain between different sized sprockets on the rear wheel, providing a range of gear options for different terrain and riding conditions.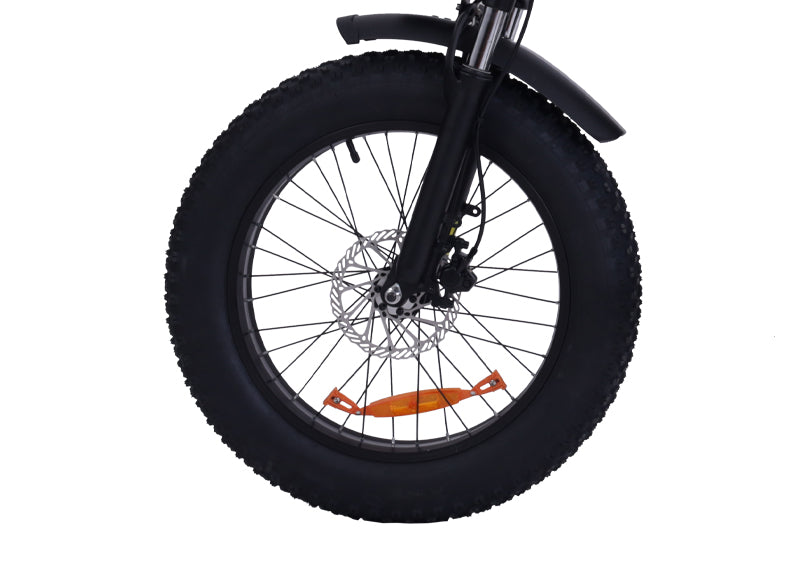 20*4.0 Inches Tires
With a width of 4.0 inches and a diameter of 20 inches, experience comfort and stability on any road with the 20*4.0-inch wheel featuring anti-skid, anti-vibration functions. Larger, faster, and less effort with a longer lifespan. They are designed for off-road and challenging terrains like snow, sand, and rough trails.
Front Spring Fork
Front fork suspension provides shock absorption and increased comfort for the rider. It can compress and rebound in response to impacts from the road or trail. This helps to smooth out bumps and reduce fatigue on the arms and upper body.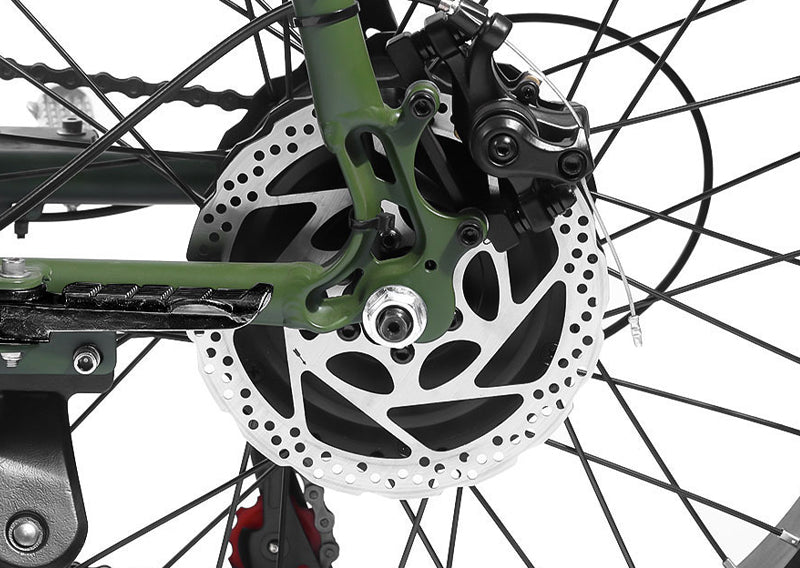 Hydraulic Brake discs
Front and rear hydraulic disc brakes provide superior stopping power compared to mechanical brakes. The hydraulic system amplifies the force applied to the brake lever, resulting in stronger and more reliable braking performance. This is especially important for ebike that often have higher speeds and heavier weights.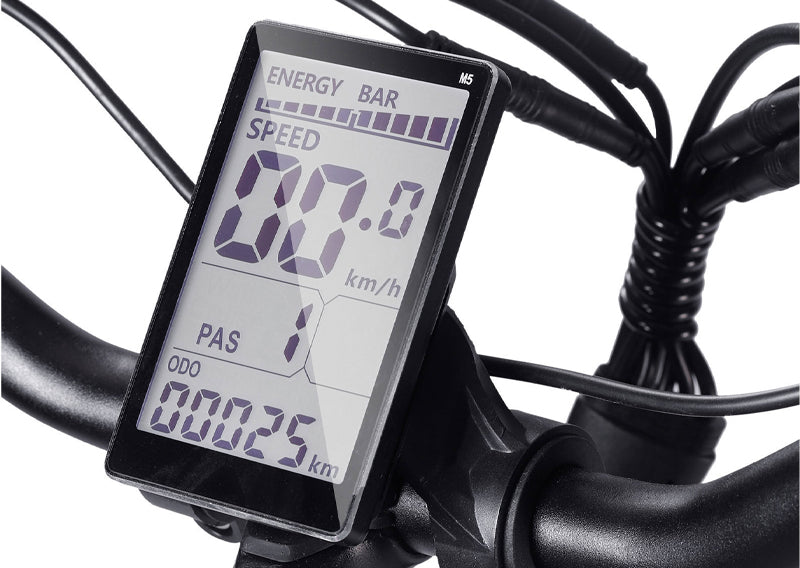 Smart LCD Display
Intelligent instrument meter boasts a new interactive interface with an integrated gear switch, cycling data display, and power output settings. Its IP54 waterproof and dustproof quality ensures durability and easy maintenance.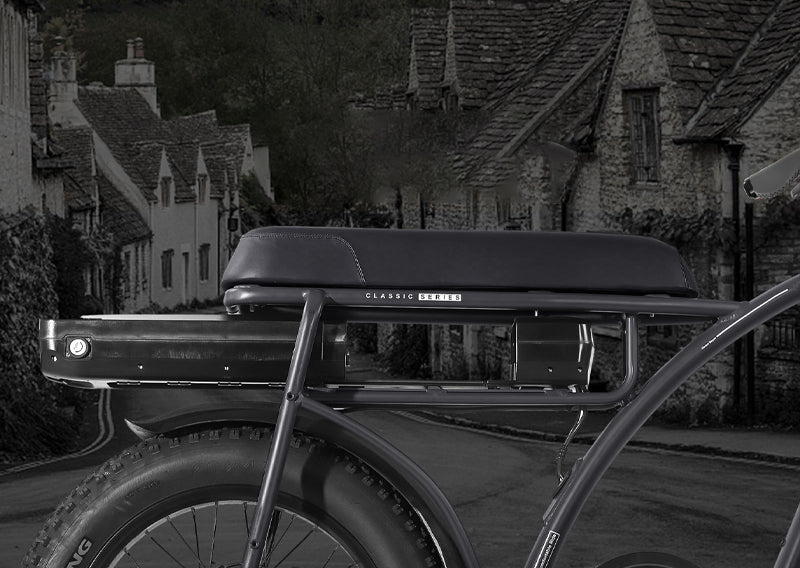 Removable Battery
Charging your removable battery anywhere, it is easy to remove the battery from the bike frame, allows for charging at home or on the office with the fast charging, also has the battery packing in good waterproof and dust proof performance.
Bezior XF001 PLUS
Top pick for Retro City Bikes
Specifications
Product Size
168*70*107cm
Power assisted rangs
100KM
Brakes
Front and rear hydraulic disc brakes
Transmission
SHIMANO 7-Speed gears
Applicable height
160-180CM
Configurations
Package contents
1 * BEZIOR-XF001PLUS bicycle
Package contents
1 * Charger
Package contents
1 * Instructions
Package contents
1 * Pump
Package contents
1 * Lock
Package contents
1 * tools
EU Warehouse Via UPS Delivery in 2-7 Days (No Customs Fees)